Mirissa, a small town in the very south of Sri Lanka, is known for it's beautiful beach and a vibrant surf culture. But as soon as May is over it turns it's head around.
Monsoon takes over and forces surfers and tourists to move to the east coast. Restaurants close as well as many pensions. Available food consists of rice and curry dishes. The rate of crime rises with the lack of income. It's less safe on the streets, especially at night. I had my share of adventure when a tuk tuk driver decided to take me to a quiet lake instead of back to our pension. Luckily I jumped out of the vehicle before anything could happen.
We commit to a 30 day stay in Mirissa. Forced to make the best of the weather I regularly walk along the seaside to document the impact of the storm. The newspapers report that the amount of water, that came down the last two days, caused a catastrophy. More than 100 people are still missing, several had to leave their homes. Sri Lankas gouvernment asks for internatiomal support. The main problem are the landslides that burry houses and people. The impact on Mirissa is mainly on the supply of water and electricity which is cut off in several places.
Walking along the beach the colours of wet wood on the fisherman's boats are all enhanced. My company are the stray dogs and the noise of crushing waves. I get soaked by the torential rain, but the wild side of Sri Lanka makes it worth while. After all, we still have 28 degrees and a humidity of 91%. It doesn't really matter if I stay inside or wander.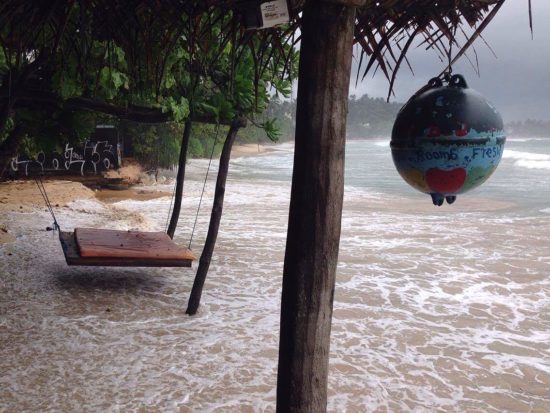 To be continued as the rain keeps falling…