About a top Workaway and the art scene of Koh Phayamu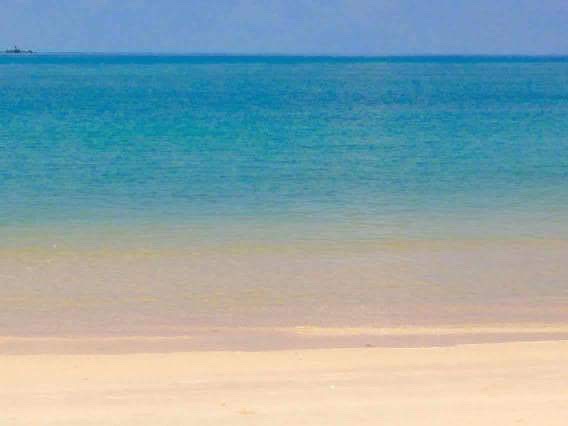 We decided in the last minute to fly to Thailand for a WA that was described as "Mountain hilltop heaven on small island". It sounded too good to be true. Koh Phayam is a gem. With only 8km by 6km it holds huge white beaches and little tourism. Seven months a year it is a sleeping beauty. High season means five other people at the beach in the morning.
Christina and Paul, a danish- british couple, made their dream come true. Their house is on the highest spot of the island and guarantees a jungle view with seaeagles circling.
The couple shelters 19 dogs and will open a resort with 5 bungalows in the future, if all goes well with the change of the gouvernment, nowadays run by the army. The politics and policies on the island are slightly unpredictable. At the moment a foreigner might not be allowed to keep his house as the area along the coast has been declared military protected and people have been told to pull their house down, without compensation.
An exemption from this might be given when the land is rented from a thai that lives on the island.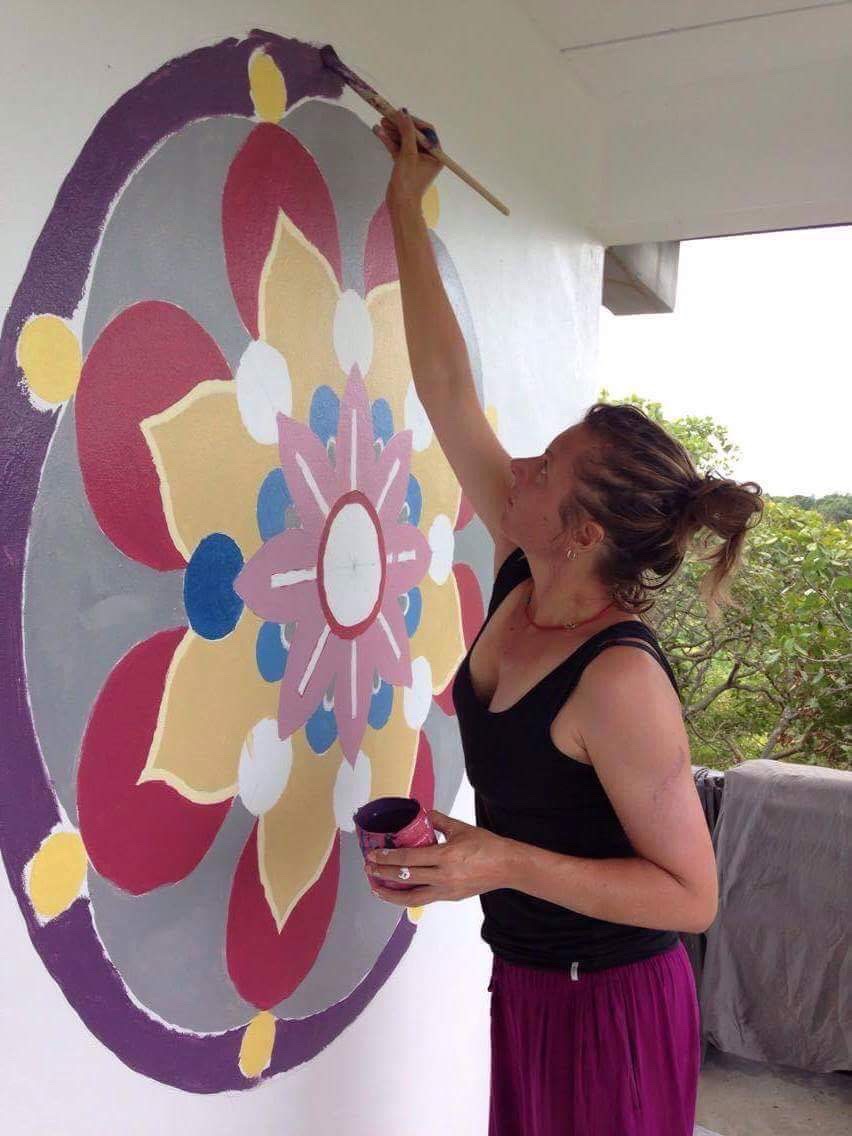 Mandalizing Koh Phayam
I draw little while we are at the Workaway. Workhours are five a day, perfectly organized. We go to the next beach after lunch. Simon sweats away carrying wood, digging holes and improvising a lot as tools are few. Its a problem to get material to the island. Everything has to be taken by boat from the mainland and transported by scooter to its place on Koh Phayam.
I am lucky with my job to decorate a white wall. A big Mandala it should be. Never done that before, but the description on the internet is clear. With a pink ribbon, a pencil and tops of cups in different sizes, I work out a 80cm radius mandala.
Mandalas are well known in the circle of meditation. I mentioned them in my post about Nepal. Artists learn in a long term education how to set together the details of a typical mandala. They narrate the story of creation and how the mind can find peace. One describes the live of Buddha. All of them should help the mind to concentrate and rest and finally lead to enlightment. In the european culture mandalas are far less complex. Every circular painting can be called a mandala.
Christina also wants small decorations for the left wall. I sketch a light playfull bow that leads up to the big mandala on the other side. At night I leave the mixed colours outside. One morning Rufus, the dog who lives partly on the floor where I work, comes in with pink over his furr. Its in his collar, around his ears…and on the floor of the deck. Luckily the color is waterbased.
Art on the island depends on the buisness. People decorate and create whatever suits them. Lots of foreigners start a buisness together with a thai partner. The local artist,"Painting can roll", lives here since three years. He missed this high season which runs from november till march only. Most of his work wasn't finished on time to sell to the tourists.
Land Art is very popular. Along the beach, with its tides and floods, the little crabs dig their hole and establish communities daily. Their ability in connecting and aesthetics vary widely, but the effort they undertake is valued by the visitor. It's an example for change, continuity and drive. Here are some of my favorites:
Concerning the art of installation, I was baffled when I saw the meditation room on the seashore. Formed as a lotus flower and settled in the emerald Andaman sea, it is the perfect place to be at peace. And to run a dog shelter, like the sign states. It's taken care of by the buddhist monks that live close by.
The Hippie Bar needed 10 years to be brought into existence. Its constantly in the making/progress, as parts of it get eaten away by the sea slowly. Parties are great, cocktails cold and music techno.
Meanwhile my work at our project changes to housework, like sweeping doghair out, cooking lunch or painting window frames. I have to admit that I feel far from being a well educated DIYer…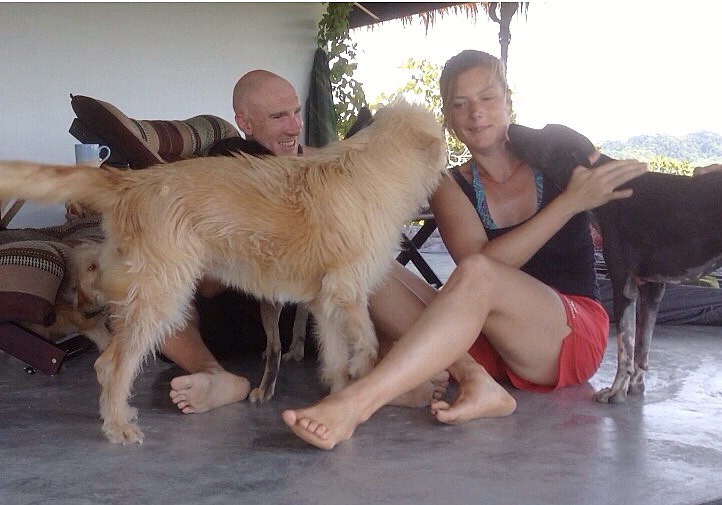 But I love the dogs. 19 dogs of different size and character are a good number to associate with. Each one contributes to the group feeling and dynamic. Like a group of people organizes itself in time of being together, the dogs have their special needs and ticks.
Rufus is my favorite. Actually not a dog I would have chosen by love at first sight. He is slightly neurotic as a result of his history when maggots kept eating his ear, and he was homeless on the streets of Koh Phayam.
Flip Flop is a medium sized dog, white with a black shadow around his left eye. He was very mistrusting during the first days, barks at us and runs away when I come closer. Finally he forgets his fear and the ice is broken
Feisty is an older Chihuahua lady. She doesnt care about the pack. She owns a quiet place with special food underneath the kitchen shelf. One day she fell of the veranda, 4mtr down. The dogs all gathered in the aisle and one swept her, accidently, over the edge. Only a rib was bruised…
Mad Max suffered a lack of air when he was born. As a result it is not always clear which dog he wants to be. He is totally harmless though.
Hyeana got her name by her look. She is a fragile sensitive dog. She just can't really let it shine through. She wouldnt allow us to touch her, but walked by many times.
Wifi is a calm and friendly lady. She gets used to sleeping in our bed when we leave the room and looks astounished every time we sweep her out.
Kayoo has the shortest hair I've ever seen and felt, an advantage in 30 degree heat with 70% humidity.
Poon means honey in thai. She is old and has issues with someone nobody else can see. She is totally friendly with us.
Whingy loves whoever cuddles her. Her black lined eyes make her look beautiful 24 hours.
Skinny is the mother of four very active kids who already got neutered at the age of 8 weeks. She suffered long and lasting from mange. She still looks like a pig and gets fed special treats to recover.                                                                                                             Oscar is the family's baby and a spoiled dog. He was the first and is taken to retaurants on the scooter (the other dogs enjoy the playground around the house which is unlimited, only devided by dog rules).
Bob can't understand why he should not run in front of peoples feet. His humor and energy is impressive.
And then there are Mama, Big Ear, No Name (who was tried to be avoided, but got adopted later on).
All the dogs here, besides Oscar and Feisty, who were imported from Denmark by Christina, were streetdogs. Many more live in the jungle and come out only in the rainy season. On our first day on the island, Lanta, a thai animal rescue organisation, had sent a group of veterinars to sterlize as many dogs as possible in 7 days. They managed around 300 dogs. The ones that have a home, or someone who cares for them, wear a collar. It hopefully protects them from being shot by the government cleaning patrol.
The last week on Phayam we spent in a bungalow directly at the beach. Who ever thinks nature is quiet is greatly mistaken. Especially at night when the sound pitches up into a concert of cricket harps, frog burps, bird chirps and breaking waves.