In january 2017 I decided to leave Berlin and travel fulltime.
The last years have already been leading up to it. I gave my center for bodywork to a subrenter and did regular Workaways with a minimum stay of a month. Often my task there was related to taking pictures or editing a film, showing the place and what it has to offer.
As much as I like my work as a bodytherapist, the challenge to massage next to the seaside took over. Now I sell my art and offer massage whereever I go. The first time I got payed it felt magical.
If you purchased a drawing, and are interested in our journey, stay in touch! The easiest way to do so is by subscribing to the mailinglist (see the button at the right side). If you have a personal question feel free to send a mail:  krabbenhoefts@gmail.com
Save travels-)
Short story about my background:
Studied art in the Netherlands, graduated with a bachelor of Fine Arts.
Exposed my work in the Netherlands and Germany.
Moved to Berlin, too big but very arty.
Lots of odd jobs followed until I had enough from living " hand to mouth".
Several educations in massage, an excellent balance to art in my opinion.
Became a bodytherapist and opend my own center.
Missed art and decided to study two years of documentary film on the self- organised filmschool "FilmArche".
"Making-off"  of  "Königin und Schatten" – very proud.
Travelled and made my own documentaries, e.g.  ("Camino Portugues")
Decided that this should be my life, with a focus on bodywork, drawing and storytelling.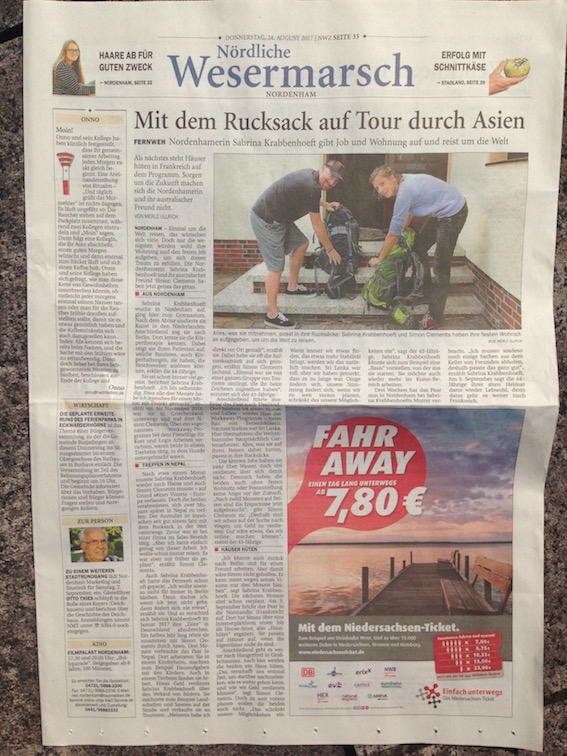 Other pages that show my work:
Photos on Flickr
Bodywork
impressum/ responsible for this Website:
Sabrina Krabbenhoeft
Mail: krabbenhoefts@gmail.com
mobil: 0175 49 73 200